How a country's economic interests influence its political decision making, including its human rights policy, is a timely question. While the political aspects of the Raoul Wallenberg case have been discussed at length, its economic dimensions have been largely ignored. There are indications that Swedish business interests came to bear quite significantly in all major phases of the case: Raoul Wallenberg 's selection for the humanitarian mission to Budapest; his work in Budapest; and his arrest and imprisonment.
Although the central focus of Raoul Wallenberg's mission was clearly humanitarian, Sweden and the Western Allies had a great deal at stake in in Hungary in 1944. Interests ranged from an extensive mercantile trade in textiles, foodstuffs and raw materials (namely oil and bauxite) to Hungary's state of the art weapons, munitions and aircraft industry. Major Swedish businesses like SKF and Swedish Match not only had local affiliates in Budapest, but enjoyed monopoly status in Hungary. So it was no accident that the managing director of Hungary's largest industrial concern, the Manfred Weiss Works, Heinz de Wahl, the head of Skandinaviska Banken and of the Swedish-Hungarian Chamber of Commerce, Erik Björkman, together with Iver Olsen, the Office of Strategic Services (OSS), U.S Treasury Department and the U.S. War Refugee Board representative in Stockholm, were closely involved in the preparation of Raoul Wallenberg's mission.
By 1944, Sweden had received strong U.S. criticism for its economic dealings with Nazi Germany. This concerned foremost the Wallenberg firm SKF in ball bearings,but also involved a lucrative trade in timber, iron ore and German technical equipment. Less well known, in May 1944, Iver Olsen reported to the Assistant U.S. Treasury Secretary that Sweden played a major role in Germany's attempt to acquire large sums of neutral currencies.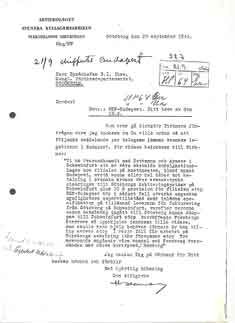 Telegram from SKF Director H. Hamberg to Pirkner,SKF Budapest (via the Swedish Foreign Ministry, from September 20, 1944. In it, Hamberg explains that SKF has decided to hand over all of its remaining ball bearing inventories in Europe to Nazi Germany. Source: Riksarkivet, UD HPvol 2859.
In just a few months, Olsen wrote, intermediaries – including the Swedish banking firms Trädgårdh & Co and P.S. Josephson & Co – had obtained for German account about $5 million from Hungary, Bulgaria, Spain and Rumania. (roughly $50 million at today's value). Another memo added that the Germans obtained dollars in these countries « at a discount, through forced sale. » « The Enskilda Bank and Skandinaviska Bank », Olsen continued, « are among large Swedish purchasers. » So were allegedly ASEA, Electrolux, AGA Baltic and NK, with purchases estimated at $1,5 million between them. All this was a thorn in American eyes.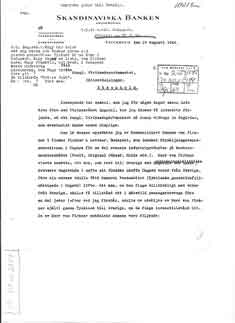 Letter from Erik Björkman, Director of Skandinaviska Banken and head of the Swedish-Hungarian Chamber of Commerce, to the Swedish Foreign Ministry's Legal Department (Gösta Engzell), August 29, 1944. Björkman describes an attempt by the German Plenipotentiary of Hungary, Edmund Veesenmayer, to secure a resumption of suspended trade between Sweden and Hungary in exchange for allowing a number of people to leave Hungary. The proposal was delivered by Kommerzialrat Pirkner. Engzell's initialed notations on the document state that the people who are to leave Hungary are is refered to as « bättre folk » – meaning supposedly wealthy or educated individuals.Source: Riksarkivet, UD volume HP2859
As the 2003 Eliasson Commission report makes clear, by the time of Raoul Wallenberg's appointment in July 1944, there were indications of a straightforward understanding: Swedish support for American aims in Hungary would weigh favorably in U.S. considerations of Swedish wartime actions. The report does not state the key irony, however: By a strange twist of fate, Raoul Wallenberg's mission served to compensate not only for the perceived transgressions of his government but also for those of his own relatives.
Archival records show that in 1944, Swedish firms and their representatives, made or planned to make several deals with Nazi Germany and occupied Hungary which drew sharp Soviet objections and had potentially serious implications for the Raoul Wallenberg case.
Trade between Sweden and Hungary had essentially come to a standstill following the German occupation in March 1944. In mid-August 1944, an emissary of the influential von Pirkner family – Ferenc von Pirkner was SKF's managing director in Budapest – relayed an offer which had the approval of Hungary's Envoy Plenipotentiary Edmund Veesenmayer: If Sweden were to provide certain trade goods, Veesenmayer would permit a number of handpicked individuals – « bättre folk », according to notations on UD documents – to leave Hungary.
Germany's desperate need of war materials had already become evident in the so-called Joel Brand mission — Himmler's offer to save 1 million Hungarian Jews in exchange for 10,000 trucks (for use only on the Eastern front) — which was being deliberated at the time. According to historian Wilhem Agrell, Himmler's Special Representative in Hungary, Kurt Becher, also urgently asked Berlin to make strategic materials, such as ball bearings and special metals from neutral countries, part of the proposed deal.
Shortly afterwards, in September 1944, SKF headquarters in Gothenburg decided to sell its remaining inventories in Europe, including that of SKF Budapest, to Schweinfurt, Germany. It is not clear what exactly prompted this decision, but it came just before a special U.S./Swedish agreement to cease all critical ball bearing exports to the Nazis would go into full effect in October. Meanwhile, American investigators worried that another Swedish company (the Swedish Trading Company), had stored 17,500 kegs of nickel from Finland at Nitro Chemie in Budapest. Nickel was essential for the production of munitions, tanks and other weaponry.
As Becher's request and Veesenmayer's offer make clear, German demand for war materials was overwhelming and Sweden was one source left to meet it – well beyond October '44, as is known today. Interestingly, Raoul Wallenberg himself had contact with Becher in the last week of September and he later negotiated with him to obtain exit permits for a group of about 400 people.
Needless to say, the Russians looked upon all this with great suspicion and threatened to prosecute SKF Budapest's Purchasing Director for handing over some ballbearings to Hungary's fascist government. Some months after Wallenberg's disappearance, Swedish officials learned from well placed Hungarians that the Russians had arrested Raoul Wallenberg in order to use him and his information in trials against Nazi collaborators in Hungary. Wallenberg's plans for a postwar organization dedicated to the reconstruction of Hungary further enhanced Soviet paranoia of his functioning as a tool of wider Western aims in Eastern Europe. In short, Swedish representatives had little incentive to take an aggressive stand on Raoul Wallenberg's behalf.
Once hostilities ceased, the primary concern for Swedish political and business leaders in 1945 was the quick normalization of relations with Hungary and, by extension, with the Soviet Union. The Swedish Ambassador in Moscow at the time, Staffan Söderblom proudly made the point that « Härvidlag är vårt …. land pionjär. » Söderblom – who in June 1946 would tell Stalin that all Sweden required was proof that Wallenberg had died in the chaos of war – repeatedly stressed the key role economic relations played in this process and he quickly sought direct consultations with L.M. Ericsson, Swedish Match, ASEA and SKF. He also in April 1945 warned his colleague Per Anger, with a reference to the Soviet occupation of the Baltic countries: « Remember, when you get home, not a bad word about the Russians. »
As Wallenberg expert Dr. Vadim Birstein has emphasized, at the time of Wallenberg's disappearance, the question of Soviet compensation to Sweden for lost business in the Baltics was an important item on the two countries' agenda and played a part in the protracted negotiations of the $300 million Swedish-Russian credit and trade agreement which was finally signed in October 1946.
In Hungary full nationalization of foreign businesses did not take place until December 1949 — almost a full five years after the end of the war. Compensation negotiations lasted until the mid-fifties and in some instances have dragged on into recent years. Wallenberg's fate does not appear to have figured in these discussions.
The Eliasson Commission concluded that in 1945 the Wallenberg family was not in a position to aid Raoul Wallenberg effectively, due to its damaged reputation and to post-war American investigations into its dealings with Nazi Germany. Despite these problems, however, it is clear that the clout of the Wallenberg family was never truly in question.
For one, as the Cold War progressed, economic issues began to take an increased role in security policy considerations. Already in August 1945 the U.S. and Sweden agreed that Sweden's far flung network of companies behind the iron curtain was to serve as a key source of information on Russia. Swedish and American firms joined in the development of high end weapons and surveillance systems and Sweden offered key support to NATO sponsored stay-behind networks in case of Soviet attack and occupation.
Sweden undoubtedly faced enormous pressures to comply with the U.S.'s embargo policies aimed at the Soviet Union, and the official numbers seem to confirm this: As numerous analysts have noted, the Soviet Union made use of only half of the available Swedish credits and Swedish exports to Russia remained well below expected levels five years after the war. While important other factors accounted for this state of affairs – a less than anticipated downturn in European demand and Russia's relatively robust foreign exchange reserves – Russia publicly accused Sweden of sabotaging the trade agreement. The resulting tensions clearly did not lend themselves to a resolution of the Raoul Wallenberg question.
However, neutrality also afforded Sweden important opportunities to act as intermediary in economic transactions with the communist block. Much of Sweden's exchange with Eastern Europe took place in the form of so-called counter trade (mothandel), a type of barter transaction which often eludes regular trade statistics. For years, the most prominent company in this field was SUKAB — Sveriges Utrikeshandels Kompensations Aktiebolaget – an import/export cooperative of leading Swedish businesses founded in 1940. During World War II, it was the vehicle which enabled commerce German occupied territories in Europe as well as Vichy France.
Its role quickly expanded during the Cold War. In the 1950's and 60's, while Sweden officially did not recognize countries like East Germany, SUKAB pursued extensive trade relations with East Berlin. Through these channels, Sweden received important raw materials, such as coal and oil, while the Soviet Union obtained ball bearings, steel and machinery.
Further research should address the question if these economic contacts could have been used to develop a constructive dialogue with the Soviet Union about Raoul Wallenberg. On at least one occasion this appears to have been the case: In 1954, Jacob Wallenberg reportedly availed himself of precisely such channels to seek information from Soviet officials about Raoul Wallenberg's fate. It is not known what kind of information, if any, he received.
With the end of the Cold War, Sweden has been quick to carve out a new role for itself. It now defines itself as a mediator of international conflict and a primary facilitator of European integration. Sweden focuses special attention on Russia – Sweden today ranks among Russia's ten largest investors – and, despite increasing tensions in recent months, Russia in turn regards Sweden as an important partner in its dialogue with European neighbors. For the sake of this mutual agenda, new and old conflicts have remained largely in the background, such as the continuing erosion of Russian civil liberties (which is finally gaining more attention) or determining the full truth about Raoul Wallenberg and other missing Swedes in the Soviet Union.
Sweden's situation is hardly unique — how to reconcile the obvious tension between a principled political philosophy (democracy) and the strictly practical rules governing the exchange of goods and services has always posed daunting challenges for democratic nations engaged in the world economy. The present controversy about Sweden's planned sale of jetfighters to Thailand is a case in point. The Swedish government currently supports a pragmatic approach: Prime Minister Fredrik Reinfeldt recently stated he will pursue a more general human rights policy while guarding Swedish political and economic interests.
Susanne Berger SVD, December 11, 2007
;